GROUP & PRIVATE DINING
AT SAN FRANCISCO LOCATION
We offer exceptional settings, specially designed menus, and personalized service for private parties and large groups. We can accommodate parties of all sizes up to 85 attendees, and provide a private dining location, subject to availability. For group or private dining, please submit your enquirer below:
Al's tribute to his love of the Forty Niners and Giants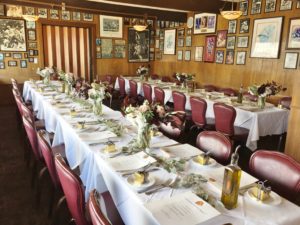 The Sports Room is located in the center of Scoma's and is one of the most-requested seating areas for our regulars.  The room is decorated with photographs and memorabilia that showcases Al's personal connection to his favorite teams and players—many of whom were personal friends and frequent guests.  This lively space can accommodate up to 40 people and has large over-sized windows that overlook the Wharf.    The Sports Room can also be completely closed off for a full private dining experience.
The food & beverage minimums for the "Sports Room" on request.
The Gannon Room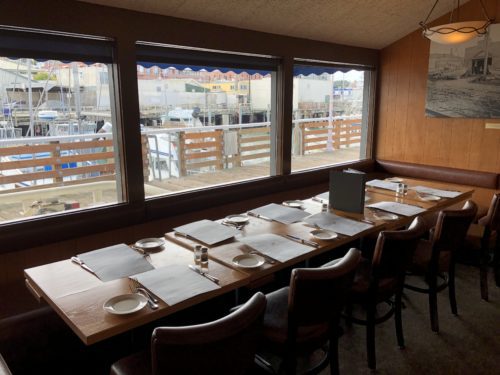 The Gannon Room is named after one of Scoma's most beloved chefs who helped make the restaurant the icon that it is today.  This charming room is perfect for small gatherings of up to 16 guests.  The oversized window showcases a fantastic view of the Wharf and the fishing boats, many of which deliver their daily catch directly to Scoma's.  The tables can be arranged in a variety of seating options no matter what the occasion.  This room provides an intimate setting for groups that wish to be separated from the main dining room but not a completely private dining experience.
Food & Beverage Minimum on request.
"A window seat for almost everyone"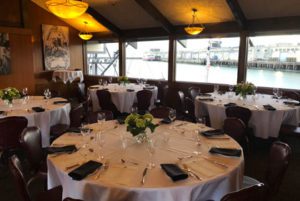 The Bay-Marin Room gets its name from the stunning views of Mt. Tamalpais, The Headlands and Sausalito across the San Francisco Bay in Marin County.  And of course majestic views of the boats and sea life in the water just outside from the large windows on both sides of the room.  This room can accommodate up to 80 guests and is equipped with its own banquet kitchen, allowing for efficient and seamless service.  This rooms can be completely self-contained for full privacy and can be equipped with AV equipment when the room is reserved in its entirety.
The food & beverage minimums for the "Bay Marin Room" on request.