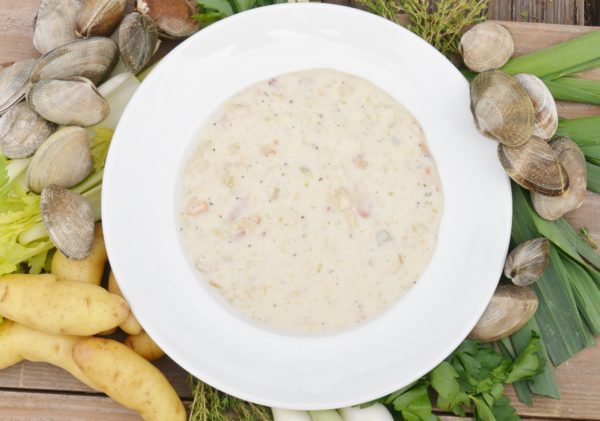 Happy International Clam Chowder Day!
Scoma's started more than 50 years ago as a small coffee shop on the Wharf in San Francisco when Al and Joe Scoma had a vision when they spotted the six-stool local spot. They bought the shop and started providing local fishermen with hearty breakfasts before heading out on the water. When they started coming back in for a bite after a long day in the afternoons and evenings though- the Scoma brothers added some new dishes on the menu. And what is better after a cold day on the Bay than a hot cup of delicious chowder?  And hence, Scoma's was born. We hope you enjoy this recipe for our famous Clam Chowder!
Scoma's Chowder Recipe
.5 lbs. frozen chopped sea clams
32 oz canned sea clams, strain and reserve juice
¼ cup yellow onion, medium dice
½ cup leeks (white only), medium dice
2 cups celery, medium dice
1qt clam Juice
1/8 tsp thyme, Dried
4 cups Russet potatoes, peeled & 3/8 inch cubed
2 cup half & half (depending on desired thickness)
Ingredients Roux:
2 cup rice oil
2-½ cup flour
Procedure roux:
1. Kill the flame. Slowly whisk the flour into the oil, until there are no lumps; usually about 5 minutes.
Procedure Chowder:
1. Place Frozen Clams and the juice only from canned clams in a blender and puree.
2. Transfer to a heavy stock pot and over medium/low heat add the clam juice, the celery, leeks, and the thyme, and cook for 1 to 1-½ hours.
3. Slowly whisk in all the roux in small batches to avoid lumps, bring back to a boil and then turn the pot OFF.
4. Add the potatoes, mix; (Takes about 5 minutes)
5. Add strained canned clams and mix them in as well.
6. Simmer until potatoes just begin to soften.
7. Add Half & Half and bring to a simmer.
8. Season with Kosher Salt and Black Pepper to taste.